DONAUWELL IS CUSTOMER ORIENTED.
WE EMPHASIZE CONSTANT VALUES AND PERSONAL COMMITMENT.
As service provider for industry and commerce, we define three characteristic values for our company: quality, adherence to schedules and customer satisfaction. This is achieved through passion, commitment and honesty. The constantly high quality targets of DONAUWELL ensure reliability and create a basis of trust for satisfied business partners. A multitude of long standing customers is an indicator of our reliability and our sustainable, economic conduct.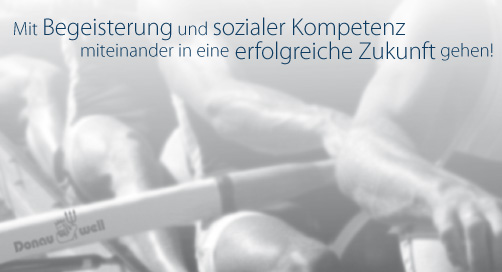 FLEXIBLE AND INNOVATIVE IN ACTING, DETERMINED AND QUICK IN REACTION.
We regard DONAUWELL as a central interface in the daily course of supply and demand, in order to provide significant competitive advantages for our customers. Whether for the safe transportation of goods, or the imposing presentation directly at the point of sale, the core element is the individual packaging requirement. For this purpose DONAUWELL develops customized, intelligent solutions that are processed in the continuous production flow and delivered promptly.